Shera Group has always been a top player in terms of quality and innovation. Our products are a result of a long and painstaking research in our in-house research and development lab. Our research and development team is constantly striving to enhance and improve the quality of our products.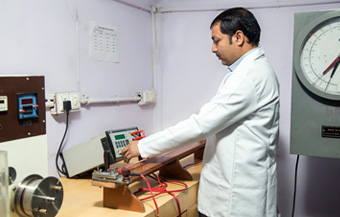 We have installed up Cast Line and are also manufacturing our own oxygen free high purity copper wire rods for our captive use to manufacture different types of enamelled and paper covered wires and strips.
In addition, Shera Group is also in the process of formalizing technical collaborations with a number of European countries to produce high conductivity parameter approximating to 106 % IACS. Currently, the wire rods that are being produced in India have a high conductivity parameter of 101% IAC. (As per the Indian standards, this conductivity is 99.5 % IACS) This innovation will help the company to reduce the amount of copper used in machines and other equipments, which in turn will enhance its prospects in a number of marketing avenues.